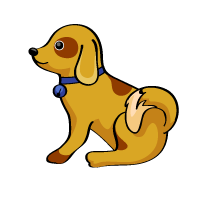 The dog is the eleventh symbol in the Japanese zodiac. Legend has it that the dog had a fight with the monkey on their way to God and the rooster had to act as a peacemaker, so they arrived in a row. This symbol represents "diligence" and "devotion".
Personality traits
Dogs are patient, strong-willed, and honest. They have a sense of duty and loyalty, and always strive to succeed. However, they are also very stubborn, and do not like to admit their own faults.
You can identify a dog if they:
Tend to get into negative thought
Can be trusted with secrets.
Can inspire confidence in others.
Compatibility with other signs
Dogs are compatible with tigers and horses. If these three come together, it generates a great positive power. Dogs also have a mutually beneficial relationship with rabbits. Dragons are the least compatible with dogs.
In Japanese
In Japanese, a dog is "inu" in romaji, and is written as "犬" in kanji. In the Japanese Zodiac, however, it is written as "戌".